Silent track ceiling curtain
Windproof roller shutter system
---
AM68 series motors can be adopted, and an electric guide rail is installed on both sides of the ceiling curtain
Wind sensor, light sensor and rain sensor are integrated, which is convenient and practical.Wind and rain intensity adjustment, high precision and sensitive response
Guestbook
The windproof roller shutter is a shading product which is improved and upgraded on the basis of common electric roller shutter products, and can be used in outdoor and indoor facade electric roller shutter. The edge of the vertical direction of the curtain and the fabric anti-release mechanism are ironed together by hot melt tape, and the professional fabric anti-release mechanism keeps the curtain always inserted in the shading track, which effectively combines the fabric and the mechanism into a whole, and is an excellent product integrating heat insulation, sun shading, light adjustment, privacy protection, windproof, and UV radiation protection.
Introduction
1. AM68 series motors can be adopted, and an electric guide rail is installed on both sides of the ceiling curtain
2. Use one or two ceiling curtains to open and close synchronously according to the area
3. The horizontal connecting rods between the fabrics have a certain degree of flexibility to provide support for the fabrics and ensure that the fabrics will not fall
4. After the ceiling curtain is opened, it presents a uniform wave or flat effect, and the operation mode can be single or double opening
5. There are no special requirements for the fabric. The minimum width of the fabric is 0.65 meters, and the maximum area is less than 15 square meters.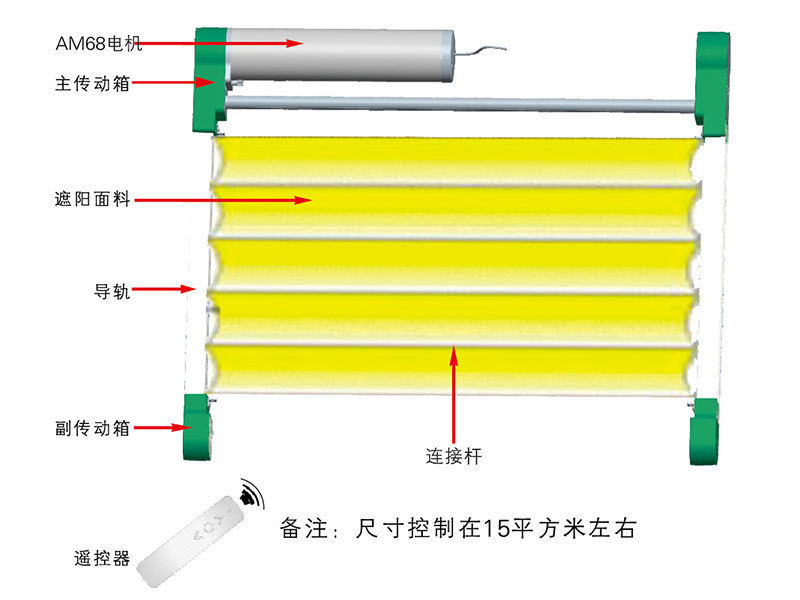 Way to control
1. Manipulator press switch control
2. Infrared or radio remote control
3. Timing, light control, temperature control
4. Can be controlled by computer platform
5. Multiple sets of awnings can realize single control or group control
Sales:
Add:
Gaonan Industrial Zone, Gaobian, Shishan Town, Nanhai District, Foshan City
Add:
Gaonan Industrial Zone, Gaobian, Shishan Town, Nanhai District, Foshan City