Changsha Greenland Luhu County Project
Windproof roller shutter system
---
Wind sensor, light sensor and rain sensor are integrated, which is convenient and practical.Wind and rain intensity adjustment, high precision and sensitive response
Guestbook
The windproof roller shutter is a shading product which is improved and upgraded on the basis of common electric roller shutter products, and can be used in outdoor and indoor facade electric roller shutter. The edge of the vertical direction of the curtain and the fabric anti-release mechanism are ironed together by hot melt tape, and the professional fabric anti-release mechanism keeps the curtain always inserted in the shading track, which effectively combines the fabric and the mechanism into a whole, and is an excellent product integrating heat insulation, sun shading, light adjustment, privacy protection, windproof, and UV radiation protection.
Project Name: Changsha Greenland Luhu County Project
Project address: Meixi Lake Quanshui Road, Yuelu District, Changsha City
Project product: electric roller shutter
Project area: electric roller shutter, about 1500 square meters
Project Overview:
The Greenland Luhu County Project is located at the origin of the golden central axis of Meixi Lake Phase I and Phase II. It is the core hinterland of Meixi Lake. It is surrounded by about 5,200 acres of Elephant Trunk Nest Forest Park (derived from the Yuelu Mountain Range) and is a pure low-density forest TOP system. Mansion community. With the design concept of "Hidden", create a minimalist art villa in the mountains.
The green space Luhu County Art Exhibition Hall combines the architectural mountain park landscape with a panoramic floor-to-ceiling window design to create a full view of the landscape. The landscape resources are as close to life as possible, and more natural light is absorbed. Taking into account the summer heat, it is equipped with electric shading products for shading. Insulation. The sunshade project of this project was undertaken by Hunan Zhibo, which adopts the design of electric roller blinds and includes high-window electric roller blinds (about 12 meters in height). The project has been completed.
Project site map: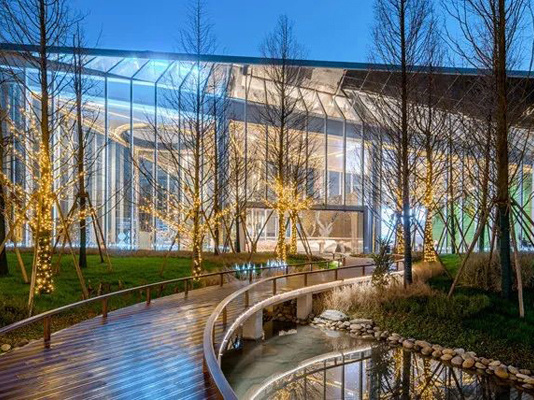 Sales:
Add:
Gaonan Industrial Zone, Gaobian, Shishan Town, Nanhai District, Foshan City
Add:
Gaonan Industrial Zone, Gaobian, Shishan Town, Nanhai District, Foshan City